Canada-Argentina mine deal scrapped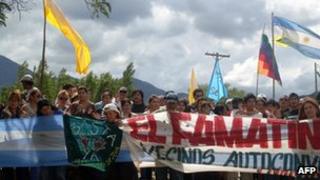 Argentina has scrapped a gold-mining deal with Canadian firm Osisko, after protests by environmental campaigners.
The authorities in north-western La Rioja province said they had not managed to get the consent of the people for the project.
Osisko suspended work in February because of the protests.
The deal was first announced in 2011, but campaign groups including Greenpeace backed local opposition to the project.
The protesters said mining at the Famatina mountain would require a million litres of water a day.
They also expressed fears over the use of cyanide to extract precious metals.
La Rioja's regional governor, Luis Beder Herrera, said "constant episodes of confrontation" had made it impossible to start the project.
He said the cancellation would have "serious social and economic consequences".
In an earlier statement, Osisko said it would prepare a consultation programme about the project.
The firm said it would not carry out any work in the area if there was "no social licence for exploration and development".