Gunmen kill Mexico mayor candidate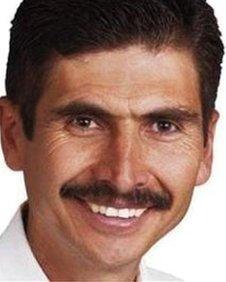 Gunmen have shot dead a mayoral candidate in Mexico's forthcoming election, the latest in a series of violent attacks on politicians.
Officials said Ricardo Reyes Zamudio was kidnapped while attending a funeral in Durango state on Sunday. His body was found on Monday with bullet wounds.
The authorities have blamed the death on organised criminals.
Mr Zamudio's party warned that "cowards" were trying to instil a climate of fear before the 7 July vote.
The Citizens' Movement (Movimiento Ciudadano) urged the authorities to find Mr Zamudio's killers.
The party said failure to solve the crime would show that the state was unable to guarantee the security of its citizens, and would undermine the democratic process.
Mr Zamudio was campaigning to be president of the San Dimas municipality, a role roughly equivalent to a local mayor.
His body was found near Tayoltita, the main city in the municipality.
Durango has been badly affected by the drug violence that has plagued many parts of Mexico.
Organised crime in the state is thought to be dominated by the Sinaloa cartel, one of several powerful criminal gangs blamed for widespread killings.
Several candidates have been killed in attacks in different parts of Mexico in the run up to the election.
The leader of the left-wing Democratic Revolution Party (PRD) in Oaxaca, Nicolas Estrada, was found dead with gunshot wounds last week.
And two candidates in Sinaloa state, which borders Durango, dropped out of the race after a member of their coalition was killed.