Brazil congressman Natan Donadon jailed for corruption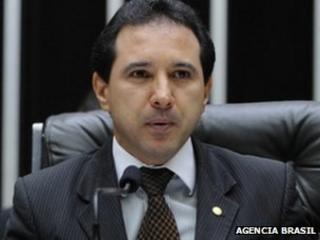 A Brazilian congressman sentenced to 13 years in jail for corruption has given himself up after two days on the run.
Natan Donadon is the first serving congressman to be jailed in Brazil since military rule came to an end in the 1980s.
Mr Donadon was convicted three years ago of siphoning off nearly $4m (£2.6m) from the State Assembly in Rondonia, in Brazil's Amazon region.
The Supreme Court threw out an appeal on Wednesday and ordered his arrest.
"For the first time in Brazilian history a congressman is arrested after losing a final appeal," said analyst Ricardo Roqueti from the Max Weber Centre in the capital, Brasilia.
"Other politicians were detained before, but either they were released later or they were struck off before serving a sentence," said Mr Roqueti.
Congress has begun proceedings to expel Mr Donadon, who on Thursday was thrown out of his centrist PMDB party, which is part of the governing coalition,
Mr Donadon gave himself up to federal police agents at a bus stop in Brasilia and has now been taken to the Papuda penitentiary.
His brother, Marcos Donadon, a politician in the Rondonia State Assembly, has been convicted of the same crime.
He was arrested on Wednesday at an airport in Rondonia, reportedly as he attempted to escape to neighbouring Bolivia.
'Heinous crime'
Earlier this week, Brazil's Senate approved a proposal that introduces tougher punishment for corruption.
According to the proposed bill, which needs to approved by the lower house of Congress, corruption would become a "heinous crime" and those found guilty of it would not be eligible for parole or amnesty.
Public anger against corruption and impunity has prompted millions of Brazilians to take to the streets in the past month.
The protests began in the city of Sao Paulo when local authorities put up transport fares by 10%.
But the demands for the fare hikes to be revoked turned into a nationwide movement, which turned violent in several cities.
Protesters have been demanding better public health care, transport and state education.
Many complain about the high costs of preparations for next year's football World Cup and the 2016 Olympics in Rio.
Huge protests are due to take place on Sunday in Rio de Janeiro, where the Brazilian football team face Spain in the final of the Confederations Cup - a dress rehearsal for the 2014 World Cup.