Brazil newspapers look at protests' political impact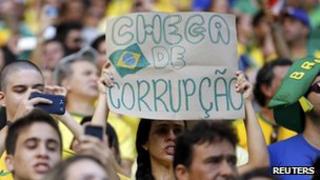 Brazil has this week seen its biggest protests since young people took to the streets in 1992 to demand the impeachment of President Fernando Collor de Mello, who was accused of corruption.
The protests have been organised through social media, galvanising hundreds of thousands of people angry at low-quality public services.
The current protests began with demands for transport fare rises to be revoked.
But Brazilian media say the impact on Brazilian politics is much bigger.
Editorial in daily newspaper Folha de Sao Paulo
The decision to revoke the hike in transport fares in Sao Paulo and Rio de Janeiro is a clear victory for the Free Access Movement (Movimento Passe Livre). But mayors Fernando Haddad (Sao Paulo) and Eduardo Paes (Rio de Janeiro) and state governors Geraldo Alckmin (Sao Paulo) and Sergio Cabral (Rio de Janeiro) get out of the demonstrations which encircled them looking astonished. Traditional politicians feel the urge to re-invent themselves.
Columnist Ilimar Franco in Rio de Janeiro daily O Globo
The protests that have shaken the country in the last few days put a question mark over the presidential election of 2014, according to political scientist Ricardo Guedes. The underlying factor for the discontentment is inflation, he says. Inflation rates are not particularly high, but that becomes more relevant due to the slowdown in economic growth.
Editorial in daily Correio Braziliense, from the capital, Brasilia
The protests have raised alarm bells at the Presidential Palace in Brasilia. Recent opinion polls, carried out before the current protest wave, showed that the popularity of President Dilma Rousseff has been dropping: from 63% to 55%. There are fears that the protests will have an impact on her campaign for re-election in 2014. It is not possible, however, to assess the damage to her popularity at this stage.
Columnist Nonato Albuquerque in daily Tribuna do Ceara, from Fortaleza
There was a sea of people in the streets of Fortaleza yesterday. What began as a peaceful demonstration, turned into violence only when the agents provocateurs joined the crowd. The "Brazilian Spring" is likely to continue to blossom in the streets, despite the authorities' U-turn on the transport fares. For 20 cents, everything may change.
Columnist Paulo Rosenbaum in Rio de Janeiro daily Jornal do Brasil
We cannot blame everything on the incompetence of President Rousseff's Workers Party. What about the votes of all the young people now at the protests? Where have they been dumped? A few months ago, they voted [in municipal elections] for the same politicians they are now contesting.