Venezuelan missing plane found five years after crash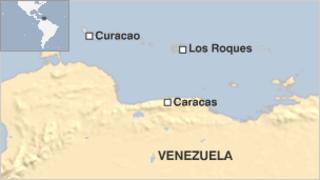 A Venezuelan plane which went missing in 2008 with 14 people on board has been found underwater off a Venezuelan island resort, officials say.
Wreckage of the small aircraft was located 9km (5.6 miles) south of Los Roques archipelago at a depth of 900m (3,000ft).
The pilot had reported engine problems shortly before losing contact with air traffic control on 4 January 2008.
Five Venezuelans, eight Italians and a Swiss citizen were on board.
Venezuelan officials said the wreckage had been located by a US search vessel which had been looking for the plane under an agreement between Venezuela and Italy.
The twin-engine Transaven Airlines passenger plane was flying from Simon Bolivar International Airport near Caracas to Los Roques airport when its pilot reported that one of the engines had failed.
'New Bermuda triangle'
The co-pilot's body was found in the sea off Los Roques days later, but neither the wreckage nor the remaining crew and passengers could be located.
The disappearance of the Transaven plane, and that of a small aircraft carrying Vittorio Missoni, director of Italian fashion house Missoni, has given Los Roques a reputation for mysterious vanishings.
More than a dozen aircraft have either crashed, disappeared or declared emergencies while flying through the area, prompting some locals to call it the "new Bermuda triangle".
A search is still under way for Mr Missoni, his wife, and four other passengers and crew who disappeared while flying from Los Roques.
A piece of luggage from the missing plane was found three weeks after the plane's disappearance off the Dutch Caribbean island of Curacao.