Brazil sends national force to control protest trouble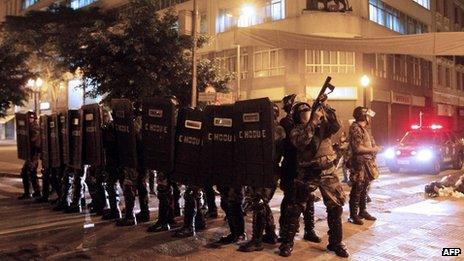 Brazil's government says it will deploy a national security force to five major cities after a wave of protests which has seen almost a quarter of a million people demand better public services.
The national force will be sent to Rio de Janeiro, Belo Horizonte, Salvador, Fortaleza and the capital, Brasilia.
All of the cities are hosting games in Fifa's Confederations Cup.
The announcement comes after riot police and protesters clashed in fresh protests on Tuesday in Sao Paulo.
Brazil's ministry of justice said that Recife was the only Confederations Cup host city not to request the support of the National Public Security Force (FNSP).
A source in the ministry said it would be up to local governments to decide how long the FNSP would stay.
Shops and banks in Brazil's largest city, Sao Paulo, were vandalised on Tuesday by groups of masked activists, who fought other demonstrators trying to stop the violence.
The protest was the latest in a wave of demonstrations engulfing at least a dozen cities.
Brazilian President Dilma Rousseff said she was proud that so many people were fighting for a better country.
Vice-President Michel Temer cut short a visit to Israel and the Palestinian territories on Wednesday to return to Brazil.
"This morning, after being in contact with his staff and with Brazil, the Vice-President decided to cancel his entire programme and return tonight," his spokesperson told Efe news agency.
The protests were sparked by anger at a rise in public transport fare prices in Sao Paulo on 2 June but have since mushroomed into much broader discontent with high levels of corruption, the poor state of the health and education services and the high cost of living.
They are the largest since 1992, when people took to the streets to demand the impeachment of then-President Fernando Collor de Mello.
Scuffles broke out between police and protesters outside the office of Sao Paulo Mayor Fernando Haddad on Tuesday after a march attended by more than 50,000 people had wound its way through the city centre.
Police officers sought refuge inside the building as protesters threw stones, and students tried to break down the door to Mr Haddad's office.
Brazilian TV showed images of a small group of people involved in looting at nearby offices and shops.
Mr Haddad has indicated he is open to the idea of reversing the price increase in transport costs if that is possible, says the BBC's Gary Duffy in Sao Paulo.
The mayors of Cuiaba, Recife, Joao Pessoa and other cities have already announced a reduction in bus fares in response to Monday's protests, which saw more than 200,000 people take to the streets in more than a dozen cities.
The dilemma for the country's political leadership is how to answer so many different concerns among a vast group of people with momentum and social media on their side, our correspondent reports.
Demonstrations also took place in the states of Rio de Janeiro and Minas Gerais.
The protests come as Brazil is hosting the Confederations Cup, a curtain-raiser event for next year's football World Cup.
Many of the demonstrators have complained of the huge sums spent on construction for the World Cup and the 2016 Olympics, which will be hosted by Rio de Janeiro.
On Wednesday, two Confederations Cup matches are due to take place in north-eastern Brazil, between Brazil and Mexico in Fortaleza, and Italy and Japan in Recife.