Brazil's leaders caught out by mass protests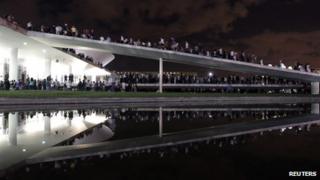 It began with smaller-scale protests over rises in fares for public transport in various Brazilian cities.
But within weeks, it had galvanised tens of thousands of people, many of them young, to take their anger onto the streets.
The focus of all this discontent seems to be spread across a wide range of issues: the costs of hosting the World Cup and the Olympics sat alongside demands to invest more in education and health.
Political corruption, as always, loomed large, with politicians accused of giving themselves high salaries and appointing relatives to phoney jobs in the capital, Brasilia.
For some, evictions to facilitate the big sporting events are part of a wider injustice.
In the capital, demonstrators chanted: "I give up on the World Cup. I want money for education and health."
To further humiliate the country's political leaders, the demonstrators breached security at the iconic Oscar Niemeyer-designed National Congress building, clambering onto the roof.
In a night of protest - some of it violent, much of it peaceful - it was the most visually striking image of the gap between many Brazilians and the politicians for whom they often hold nothing but contempt.
In Brazil's largest city, Sao Paulo, there was another incentive to protest: anger over police tactics at earlier demonstrations, most notably last Thursday.
The police were widely accused by witnesses of firing rubber bullets at peaceful protesters, with many officers hiding their name-tags to conceal their identities.
Among the more than 100 people injured in the unrest were journalists from national news organisations who said they had been deliberately targeted.
The authorities denied wrongdoing, promised to investigate the allegations, and ruled out the use of rubber bullets at the latest protest.
But for people watching, the images of a young couple being clubbed to the ground by a snarling policeman that appeared on the front of many magazines and papers was all too much.
Raised expectations
Brazil had not returned to democracy in 1985, after 21 years of dictatorship, to let it come to this. Social media helped stir a wave of revulsion.
All of this happened at a time when Brazil is playing host to the Confederations Cup, the warm-up tournament for the World Cup.
At the opening ceremony in Brasilia on the weekend, President Dilma Rousseff was booed. There were clashes outside the stadiums there, and in Rio de Janeiro and Belo Horizonte.
Many of the headlines in recent years about Brazilians have been about millions lifted out of poverty, a country seizing a chance to enhance its profile on the world stage, an agricultural super power.
The World Cup in 2014 and the Olympic Games in Rio de Janeiro in 2016 were the icing on this cake.
But for many Brazilians the raised expectations do not seem to have been matched by results.
The litany of politicians accused of corruption continued, even if sometimes the courts snatched at their heels.
Despite some longer-term improvements in some cities, crime continues to create ugly headlines: the gang rape of a foreign tourist in Rio de Janeiro; two dentists burnt to death by robbers in Sao Paulo.
For a moment Brazil seemed to be storming ahead on the economic front fulfilling its promise as a Bric country alongside Russia, India and China. But now, growth is sluggish, and concerns growing.
Brazilians are normally slow to take to the streets, with demonstrations like this not seen since a former President, Fernando Collor de Mello, was forced from office in 1992.
Ms Rousseff is said to view the current protests as "legitimate" and part of the nature of democracy.
But Brazil's political establishment has been caught on the hop by a movement that has grown more daring by the week.
Perplexed and taken back, they now have to decide how to respond, and to do so in a country that is in the glare of an international spotlight.