Brazil tries to avert trouble at bus costs protests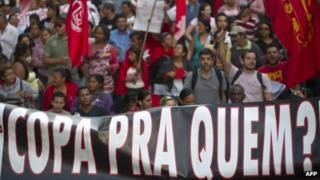 Security chiefs in the Brazilian city of Sao Paulo are meeting leaders of groups which have been staging protests against rising transport costs.
The authorities are hoping to avert trouble ahead of a demonstration scheduled for later on Monday.
Brazil has seen a series of protests this month in various cities over the rising cost of public transport, some of which ended in violent clashes.
The disturbances coincide with Brazil hosting football's Confederations Cup.
Wave of protests
Dozens of people, including several journalists, were injured at Sao Paulo's most recent protest on Thursday.
Eyewitnesses said police used riot control measures - including firing rubber bullets and tear gas - against peaceful protesters.
Police deny they acted unlawfully but have said they would investigate the allegations.
Brazilian television station Globo reported that Sao Paulo security chiefs have decided not to use rubber bullets while policing the demonstration scheduled for later on Monday.
There have also been protests in the capital, Brasilia, and Rio de Janeiro.
While the wave of demonstrations began in response to recent price hikes in public transport, it has broadened into wider discontent about such issues as inequality and corruption.
Some protesters have been holding up placards demanding higher public spending on education and health.
Dozens of buses and buildings have so far been damaged during the protests, prompting Sao Paulo Governor Geraldo Alckmin to describe demonstrators as "vandals".
Prices for a single ticket in Sao Paulo were raised on 2 June from 3 reals ($1.40, £0.90) to 3.20 reals.
Authorities say the rise is well below inflation, which since the last price rise in January 2011 has been at 15.5%, according to official figures.