Brazil to invest $1.2bn in Rio de Janeiro's favelas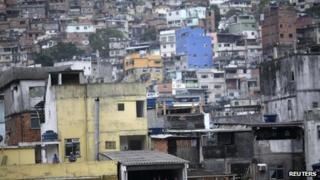 Brazil's President Dilma Rousseff has announced an investment of more than $1.2bn (£770m) in favelas, or shanty towns, in the city of Rio de Janeiro.
Ms Rousseff said the money would be spent improving three areas - Rocinha, Jacarezinho and the Lins complex.
They will be integrated with the rest of the city as Rio prepares to host the 2016 Olympic Games.
Sewage and water facilities are scarce in most Brazilian favelas and access to utilities is poor.
The investments are part of the Growth Acceleration Programme (PAC) launched by Ms Rousseff's predecessor, Luiz Inacio Lula da Silva.
Ms Rousseff has implemented the $742bn second phase, PAC 2, which focuses on six major initiatives - "better city"; "citizen community"; "my house, my life"; "water and light for all"; transportation and energy.
Brazil will also host next year's football World Cup.