Venezuela's Maduro scraps plan for food restriction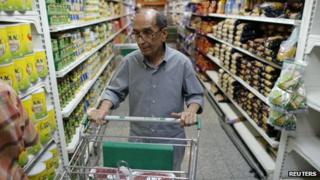 Venezuela's President Nicolas Maduro says he has halted a plan to restrict the sale of basic food items in the country's most populous state, Zulia.
The scheme would have limited the number of packages of items such as rice, milk and sugar shoppers were allowed to buy.
The authorities said it was aimed at curbing smuggling to Colombia.
Venezuela is suffering from a shortage of some goods, with milk, toilet paper and sugar often not easily available.
Appearing on television on Saturday, President Maduro called the plan "insane"
Critics had said the plan to restrict the sale of 20 basic food items constituted food rationing.
'Ration book'
The plan was devised by the authorities in western Zulia state, which borders Colombia.
It is not clear exactly how it would have worked, but it was meant to prevent shoppers from buying the same product more than once in a day.
The authorities said it was aimed at preventing people from buying large quantities of price-controlled goods in Venezuela only to sell them at a profit in neighbouring Colombia, where they are more expensive.
State official Bragdimir Labrador had announced last week that check-outs in major supermarkets would be fitted with a chip that would monitor the quantities each shopper bought of the restricted items.
President Maduro dismissed the plan.
"A chip? That is not the solution. I totally reject an initiative of that kind, whoever has put it into place," the president said.
He said the only way to counter the shortage was to "produce, produce, produce".
Opposition politician Pablo Perez had called the move a "pilot project for a rationing book".
"Don't be surprised if we get subjected to the 'communist digital food plan'," he said.
Zulia state Governor Francisco Arias Cardenas insisted the plan was not a form of rationing but a "control mechanism" in the fight against food smuggling.
Venezuela is experiencing a shortage of key goods, with the scarcity index at more than 20%, according to data from Venezuela's Central Bank.
That means that out of 100 goods, 21 are not available.
Opponents of the government say tight economic controls on foreign currency, inadequate domestic production of food and dependence on imports are to blame for the shortages.
The government argues they are the result of a conspiracy campaign by the opposition and rich sectors of society, made worse by panic buying by a worried populace and smugglers looking to make profit.