Amnesty: Mexico 'failing to tackle disappearances'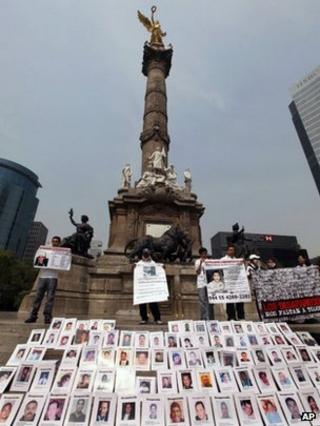 Amnesty International has said the Mexican government is not doing enough to investigate the disappearances of thousands of people.
"Disappearances in Mexico have become commonplace because federal and state authorities have tolerated and refused to clamp down on them," Amnesty says in a new report.
Official figures say 26,000 people have gone missing since December 2006.
The date coincides with the deployment of the army to fight drug cartels.
Critics of the war-on-drugs policy of former President Felipe Calderon say police brought about an escalation in violence.
"These figures demonstrate one of the key human rights challenges facing the government of Enrique Pena Nieto," said Rupert Knox, Amnesty International researcher on Mexico.
"Ending the crisis of disappearances, locating the victims and holding those responsible to account - regardless of whether they are criminals or public officials."
"Confront the nightmare"
Criminal gangs as well as public officials are involved in the disappearances and the motivations vary, Amnesty says.
The human rights group has called on the Mexican authorities to commit the resources to address what it describes as "a national crisis".
The report also makes reference to the struggle of relatives who have to carry out their own investigations, and often become the victims of intimidation.
Amnesty tells the story of Israel Arenas Duran's mother.
Her son disappeared at the hands of police in northern Nuevo Leon state in June 2011, Amnesty says.
When she went to the investigator in charge of the case, she was sent home in a patrol car after being removed from his office for "demanding an investigation".
However, the report welcomes measures taken by President Pena Nieto, who took office in December 2012, including the publication of data on disappearances.
"It is essential that the government confront this nightmare by involving victims and human rights groups in the development and implementation of policy," the report says.