US embassy staff hurt in Caracas strip club shooting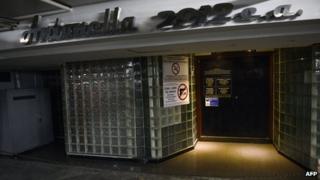 Two US embassy officials have been injured in a shooting after a brawl at a nightclub in the Venezuelan capital, Caracas, police said.
The incident reportedly took place at the Antonella 2012 Club, a pole dancing bar in the Chacao neighbourhood.
The US confirmed two of its embassy staff in Caracas were being treated for non-threatening injuries after an "incident at some sort of social spot".
Local media named the pair as Roberto Ezequiel Rosas and Paul Marwin.
The shooting happened on Tuesday morning, Venezuelan officials said.
It is not clear whether it occurred inside or outside the club, which is located in an upmarket part of town.
Police said one man was hit in the abdomen, while the other was shot in the leg and abdomen.
"Apparently it was a fight originating in a nightspot where these people were attacked," Venezuelan police spokesman Duncan Rico told local media.
"Shots were fired at them and they suffered gunshot wounds."
The US State Department said embassy officials in Caracas were liaising with the two men and their families.
Spokesman Patrick Venetrell said the incident happened in "some sort of social spot or somewhere outside the embassy grounds".
Caracas is thought to be one of the most dangerous cities in Latin America.
Last year, the government introduced a new gun law banning the sale of firearms and ammunition.