Ecuador tries to fix satellite after space debris crash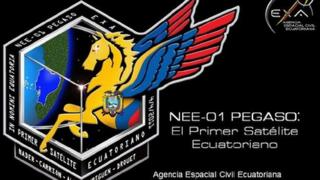 The Ecuadorean Civil Space Agency (EXA) says it will announce later on Monday if it can re-establish contact with its first and only satellite, Pegasus.
Pegasus, a nano-satellite, collided with a cloud of particles from an old Soviet rocket on Thursday.
EXA chief Ronnie Nader said it was still in orbit but was spinning wildly over two axes.
Mr Nader said Pegasus could neither receive nor send signals, but that he held out hopes it could be fixed.
Pegasus, a small cube measuring 10cm (4in) along its edge and weighing just 1.2kg (2.6lb), was launched from the Chinese spaceport of Jiuquan on 25 April 2013.
'Dizzy'
Orbiting the Earth at a height of 650km (404 miles), it transmitted pictures from space while playing recordings of the Ecuadorean national anthem.
Less than a month after its launch, it collided with a particle cloud from an old Tsyklon-3 rocket, which had been in space since 1985.
While EXA scientists were relieved there had been no frontal clash, the satellite's solar panels were damaged in a lateral collision.
EXA announced that Pegasus had "survived" the crash, but that the satellite's antenna had "lost its orientation and the craft is spinning wildly over two of its axes".
The space agency said it was "working tirelessly to stabilise the satellite to regain its signal".
On an EXA Twitter account written in Pegasus's name, the satellite announced it was "dizzy, but still here".
Referring to the Soviet rocket it had collided with, a later tweet read, "you should see what the other one looks like now".
Thousands of Ecuadoreans have gone on social networking sites to express their support for EXA, which is planning to launch a second satellite, named Krysaor, in August.
But some also asked whether the Ecuadorean government had been right in investing $700,000 (£465,000) in Pegasus's launch.