Spanish couple kidnapped in Colombia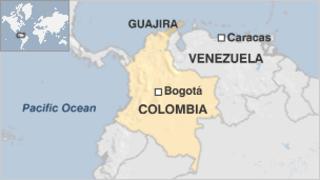 Two Spanish tourists have been kidnapped in Colombia while driving in La Guajira, near the Venezuelan border.
The couple disappeared on Friday, but Spanish authorities only confirmed the kidnapping on Tuesday.
The kidnappers contacted the hostages' family and identified themselves as members of the left-wing rebels Farc, Colombian authorities say.
The group, which last year vowed to stop civilian hostage-taking, has not claimed responsibility.
'Absolute discretion'
Angel Sanchez Fernandez and Maria Concepcion Marlaska Sedano were reportedly on their way to Cabo de La Vela, one of the region's main tourist sites, when they disappeared.
Their car was reportedly found abandoned on Friday with a damaged windscreen.
Spanish Foreign Minister Jose Manuel Garcia-Margallo said the government was co-operating with Colombian authorities, but refused to give any details about the kidnapping.
"The house rule is to keep absolute discretion [in these cases]," he told reporters.
The Farc have been involved in hundreds of kidnappings over the decades, but in recent years, the rebels said they had given up the activity and claimed to have released their hostages.
It is not rare for ordinary criminals to use the Farc's name in an attempt to strengthen their bargaining position, correspondents say.
But neither Colombian authorities nor the rebels confirmed that the group had any participation in the latest kidnapping.
The Farc is involved in peace talks with the Colombian government to put an end to the nearly five decades old conflict.