Peru ex-President Alberto Fujimori's health 'worsening'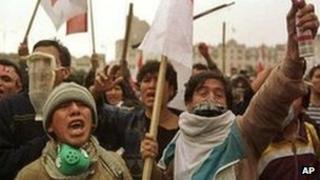 A senior doctor treating Peru's Alberto Fujimori has said that the jailed former president has severe and worsening health problems.
Alejandro Aguinaga said the former president had a condition that was eating away his stomach.
Mr Fujimori is serving a 25-year sentence for human rights abuses, but his family says he is too frail to be in prison.
They have called for a presidential pardon on humanitarian grounds.
The doctor told AFP news agency that "the tests that were done show that the former president has gastroduodenitis".
He added that the jailed ex-leader was unable to eat because the food he ingested was reaching internally damaged areas.
'No clemency'
The former president, in office from 1990 to 2000, was admitted to hospital on Friday for intestinal bleeding, but later released.
He was convicted in 2009 of ordering the killings of 25 people by a government-backed death squad during Peru's internal conflict.
Correspondents say that the doctor's diagnosis is likely to add more pressure on President Ollanta Humala to issue a pardon.
Last October, his family asked Mr Humala to commute his sentence.
Under Peruvian law, he can be pardoned only on health grounds.
But opponents argue that Peruvian jails are crowded with prisoners in worse health and for lesser crimes than those for which Alberto Fujimori was convicted.