Brazil unblocks Maracana stadium privatisation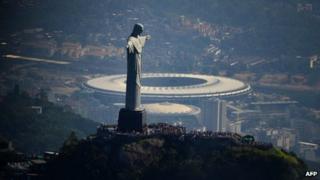 A Rio de Janeiro court has overturned the suspension of the concession of Brazil's iconic Maracana stadium to a group of private companies.
The stadium was privatised last week, but a judge suspended the process saying the bidding was illegal.
Monday's ruling reversed this. The court said suspending the concession would cause damage to Brazil.
Maracana is set to host the final of next year's football World Cup and the opening ceremony of the 2016 Olympics.
The president of Rio de Janeiro's Court of Justice, Leila Mariano, said the suspension order granted last Friday would "seriously compromise" the city's ability to stage the international events.
On Friday, judge Gisela Faria ruled there had been irregularities in the bidding process and suspended the decision to hand over control of Brazil's biggest and most famous football stadium.
One of the companies of the consortium behind the winning bid had been unfairly advantaged in the process, she said.
On Thursday, the Rio de Janeiro state authorities had announced a group that includes one of the country's richest men, Eike Batista, had won the bid to manage the stadium for the next 35 years.
The winning bid also included Brazilian building giant Odebrecht and AEG, the Los Angeles-based entertainment firm, which manages several venues across the US and Europe.
The legal action to stop the process was brought by Rio's Prosecutor's Office, which also challenged what it said was the unnecessary demolition of the athletics stadium and an Olympic swimming pool next to the Maracana.
The prosecutor's office is yet to announce whether or not it will appeal against Monday's ruling.
The Maracana was built to host the first post-war football World Cup in 1950, won by Uruguay.
The Brazilian government has spent more than $500m (£320m) of public money to revamp the stadium and prepare it for the 2014 World Cup.
Critics say the privatisation will not recoup the investment.