Guatemala ex-leader Rios Montt denies genocide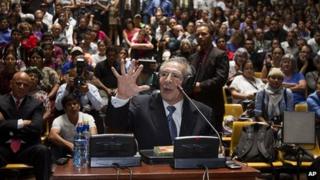 The former military leader of Guatemala, Efrain Rios Montt, has protested his innocence at the end of his trial on genocide charges.
It was the first time General Rios Montt, 86, had spoken during the court proceedings.
He said there was no evidence he had ordered the extermination of the Ixil ethnic group during his time in office, in the early 1980s.
Gen Rios Montt is accused of genocide and crimes against humanity.
An estimated 200,000 people were killed in Guatemala's civil war, the vast majority of them indigenous Mayans.
Gen Rios Montt has maintained a silence in the courtroom as the multiple charges have been laid out before him.
However, the BBC's central America correspondent Will Grant says that as the closing arguments were being made, he was not going to leave the hearing without protesting his innocence himself.
"I have never ordered genocide," he told the three-judge tribunal.
"I am innocent. I never had the intent to destroy any national race, religion, or ethnic group."
Guatemala 'in ruins'
Speaking for nearly an hour, he argued that as president he was in charge of maintaining the integrity of the national territory of Guatemala rather than overseeing the civil war at a local level.
"The commanding officer in charge of the units in the El Quiche region is accountable for the actions," he said.
Our correspondent says that the former military leader - at times calm, at others angry and shouting - made occasional references to his advanced age, at one point saying: "Forgive me, I am a great-grandfather."
He said he would "never accept responsibility for the charges" adding that his "mission as head of state was to reclaim order, because Guatemala was in ruins".
Gen Rios Montt is accused of having ordered the killing of more than 1,700 members of the Ixil ethnic group during his 16 months in power between 1982 and 1983.
Members of the indigenous Ixil Maya group sat in the courtroom on Thursday listening to the proceedings.
Gen Rios Montt's former chief of military intelligence, Gen Jose Mauricio Rodriguez Sanchez, is on trial alongside him.
Mr Rodriguez also protested his innocence and asked to be freed after "19 months of unfair detention".
Prosecutors said the two generals wanted to wipe out the Ixil group, which they suspected of supporting rebel fighters.
They have asked that both men be sentenced to 75 years in prison.
The trial has been beset with delays, legal loopholes and a temporary suspension.
The judge is expected to retire to consider the evidence before reaching a decision in the coming days or weeks.