Mexico probe of bistro 'closed by official's daughter'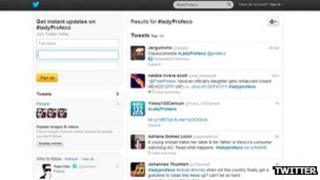 Mexican authorities are investigating allegations that the daughter of a government official used her influence to close a restaurant.
Andrea Benitez is said to have prompted a raid after not having been offered a table on Friday night.
Both the federal attorney-general for consumer protection, Humberto Benitez Trevino, and his daughter have since apologised for the episode.
It caused outrage in Mexico and became a trending topic on social media.
Mr Benitez called his daughter's behaviour inappropriate and said he "immediately suspended the operation", as soon as he heard of it.
"She exaggerated the situation and authorities of the Profeco (the initials in Spanish of Mr Benitez' office), who depend on me, overreacted because she is my daughter," he said in an official statement.
On Monday, legislators demanded sanctions against Mr Benitez.
"The Congress' presidential commission should take up the matter and apply the Federal Bill for Public Servants, in which direct sanctions are suggested," said Lizbeth Eugenia Rosas Montero, from the leftist Democratic Revolution Party (PRD).
Anger and humour
On Twitter, Mexicans used the hashtag #LadyProfeco to poke fun at Ms Benitez and posted humorous remarks and photos about the episode.
"I always wondered why certain restaurants in #MexicoCity were "clausurado" [suspended] and others weren't. #LadyProfeco makes it abundantly clear," tweeted one user.
Many also demanded charges of traffic of influence against Ms Benitez.
The restaurant Maximo Bistro, in Mexico City, opened normally on Sunday, but Profeco officials suspended two licences.
Correspondents say Mexico has become more sensitive to abuses of power by the wealthy and well-connected.
Last year, the head of a powerful union was heavily criticised after posting photos of a Europe trip in which she appeared in five-star hotels, private jets and yachts.
The daughter of President Enrique Pena Nieto was also lambasted in 2011, after she retweeted an aggressive comment directed at critics of her father.
Mr Pena Nieto immediately apologised for his daughter's tweet.