Bearing witness to the Syrian conflict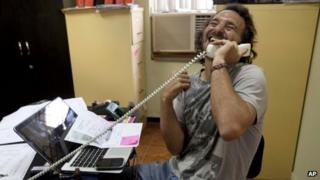 BBC Brasil's Marcia Carmo speaks to Argentine photographer Rodrigo Abd - who has been awarded this year's Pulitzer Prize for Breaking News Photography along with four of his colleagues from the Associated Press - about his award-winning photographs and his personal connection to war-torn Syria.
Syria was home to Rodrigo Abd's grandparents.
So when Abd, 36, crossed into the country from neighbouring Turkey in February 2012, he not only found painful scenes, but also faces and manners that brought back memories of his youth.
"This assignment had a real impact on me," he says.
"All the time I was in Syria, I was reminded of my grandparents, my uncles, cousins, the food we ate and the family gatherings we had.
"People's gestures were familiar to me. I was brought up with the same traditions, the only difference being that I grew up in Buenos Aires," he says.
Abd's grandparents emigrated to Argentina at the beginning of the 20th Century.
"They were Christians and as such they were in the minority in Syria," he explains.
"My grandfather and his brothers decided to leave Homs for Buenos Aires in the hope of finding a better future for their families," he says.
Abd's grandparents have passed away, but he says his parents still closely follow the news from Syria and are distressed by what they see.
Roots
Abd himself went to Syria in February 2012, almost a year after the uprising against President Bashar al-Assad began.
His picture of a grieving mother has become one of the best-known images of the bloody conflict which has erupted.
He captured the face of the woman, Aida, at the hospital where her family was taken after their house had been bombed.
"She was in a room with her three daughters, who were covered in blood. It was a horrible situation," he recalls.
"Her husband and two sons were dead, but she didn't know that yet," he says.
"I think her face reflects the pain of the civilian population in Syria."
The Argentine photographer was touched by the human drama he witnessed in Syria.
"For me, it was very important to have gone to Syria because it was like coming back to my roots, meeting my ancestors again, their blood line, their traditions," he says.
"In this sense it was very beautiful, despite the fact that the dramatic situation which Syrians are experiencing overshadows any feeling of happiness."
Changed lives
Abd's award-winning photographs document the changes in the everyday lives of Syrian children.
In one image, a boy can be seen playing with a toy rocket-propelled grenade launcher; a relative is showing him how to use the "weapon".
In another moving picture, Abd shows the grief experienced by a boy at the funeral of his father.
The father was buried in a local park because the cemetery had been occupied by the army.
"Before the conflict, children used to come to the park to play, and adults would come to have a rest. It's a park like many others in the world, but it was turned into a cemetery."
Abd, who worked in Argentina, Guatemala and Peru for more than a decade before covering the conflict in Syria, says the prize is an endorsement of his work.
"It is a great joy because it shows that all the effort and dedication during those 14 years was worth it.
"I hope this prize will give me more confidence and freedom to keep on working hard on the themes I judge to be important to the world."