Two missing after Peru hot air balloon falls in Pacific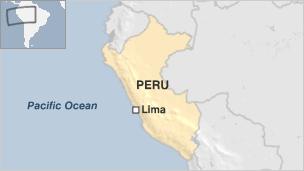 Peruvian authorities say two people are missing after their hot air balloon fell into the Pacific Ocean.
Five women also on board were rescued, but the balloon's pilot and another man have not been found, officials said.
Interior Minister Wilfredo Pedraza criticised balloon owners Globos Peru SAC, saying none of the people on the flight were wearing life jackets.
Members of the Peruvian navy, air force and police are searching by sea and by air for the missing men.
Volunteers with their own boats are also reported to have joined the search.
Reports suggest one or both of the men attempted to swim ashore while the women stayed in the balloon's basket, which floated.
Those rescued are now being treated in hospital.
"Thank God, we have located five female occupants and we are continuing to search for the two missing men, whom we hope to find alive," Mr Pedraza told reporters on Canete beach south of Lima, reported the Agence France-Presse news agency.
"There is joy, but also still tension because we need to find the other two young people."
As well as taking the company to task for the lack of life jackets, Mr Pedraza also censured it for failing to equip the balloon with a GPS tracking device, AFP said.