Honduran police directors resign over force's slow purge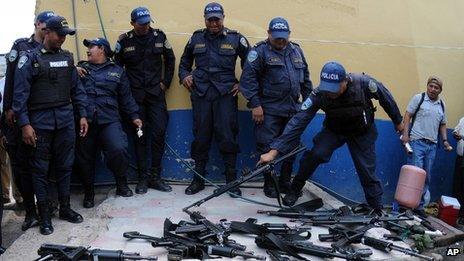 Two Honduran police officials who were in charge of purging the force of corrupt officers have resigned from their posts.
Eduardo Villanueva and Mario Chinchilla handed in their resignations after coming under heavy criticism in congress for their lack of progress.
Mr Villanueva said there was "a mistaken perception that the police force could be purged in a day".
President Porfirio Lobo has made tackling police corruption a priority.
Mr Villanueva had been put in charge of the purge last year after a series of allegations of police involvement in cases of drug trafficking, extortion, and even kidnapping.
The resignation of Mr Villanueva and his deputy, Mr Chinchilla, came after two weeks during which they gave evidence before the Honduran congress on the progress made in their posts.
Mr Villanueva said so far only 3,200 officer out of the force's 14,000 had been vetted. Of those, 230 had failed one or more of the tests.
He blamed a lack of funds for the slowness of the process.
He also said that the investigations should not be rushed as "care had to be taken not to abuse officers' rights, destroy their honour and image and violate their right to be presumed innocent, just like any other citizen".
President Lobo ordered the purge after the United States released a report saying corruption and human rights abuses were a serious problem in the Honduran force.
Honduran police have complained about being underpaid and poorly equipped to fight the violent street gangs blamed for much of the violence.
Earlier this week, almost 2,000 officers went on strike to demand better pay and working conditions.
The officers on strike said they only made about $150 (£95) a month and had to pay for their own uniforms and bullets.
They said police stations lacked such basic facilities as toilets.
Related Internet Links
The BBC is not responsible for the content of external sites.