Guatemala Rios Montt trial returned to disputed judge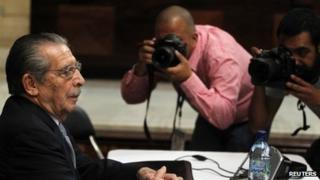 The highest court in Guatemala has ruled that the trial against ex-leader Efrain Rios Montt should be taken over by a judge who had earlier handled it.
Gen Rios Montt, 86, is accused of genocide and crimes against humanity.
The Constitutional Court decided that the case should be returned to Judge Carol Patricia Flores, who had been taken off it after allegations of bias.
Judge Flores was reinstated last week and ruled that the proceedings should start from where she had left off.
That decision was questioned by another judge who had been hearing the case.
Judge Jazmin Barrios said she would not follow Ms Flores's "illegal" order and asked the Constitutional Court to throw it out.
Tuesday's ruling by the Constitutional Court upheld Ms Flores's decision, although it did leave the door open for an appeal by Judge Barrios.
Court chaos
Ms Flores ordered Thursday that the trial be "re-set" to 23 November 2011, the date when she was first asked to step down from the case.
She demanded that all actions taken since then be declared "void".
Her intervention, at a time when the trial was nearing closing arguments, caused an outcry among victims' relatives and human rights organisations.
More than 100 witnesses, including survivors of massacres alleged to have been ordered by Gen Rios Montt, have given evidence since Ms Flores was taken off the case.
Many recalled harrowing incidents of murder, torture and rape committed by soldiers during Gen Rios Montt's rule from 1982 to 1983.
The prosecution said Gen Rios Montt was behind the counter-insurgency plan that killed more than 1,700 members of a Mayan indigenous group in 1982.
The court also heard evidence from expert witnesses describing the military chain of command and Gen Rios Montt's alleged links to the massacres.
Gen Rios Montt's former chief of military intelligence, Gen Jose Mauricio Rodriguez Sanchez, is on trial alongside the ex-leader.
Prosecutors said the two generals wanted to wipe out the indigenous Ixil Maya group, which they suspected of supporting rebel fighters.
Gen Rios Montt's lawyers have argued he was not responsible for the alleged crimes "since he was never on the battlefield".
Judge v judge
The intervention by Judge Flores on Thursday threw the trial into disarray, with her fellow judges questioning her move.
But she has argued that her ruling to send the case back to square one was not a personal decision.
"I am not doing this because I want to, but because it has been ordered by the Constitutional Court and the Supreme Court," she said.
Human rights groups and victims' relatives have questioned whether the decision is politically motivated.
They have speculated that it may be aimed at stopping the historic case - the first time a former head of state is put on trial for genocide by a national tribunal.
Constitutional Court spokesman Martin Guzman stressed that the court had not ruled to either annul or continue the trial, but only backed Judge Flores's decision.
He said critics were free to lodge an appeal.
Gen Rios Montt's trial is seen as key in the way Guatemala deals with crimes committed during its civil war.
An estimated 200,000 people were killed or went missing during the civil conflict, which ended in 1996. Gen Rios Montt's 17 months in power are believed to be one of the most brutal periods of the war.