Profile: Horacio Cartes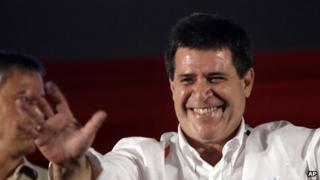 Horacio Cartes is a relative newcomer to politics, only having joined the Colorado Party in 2009, but as one of Paraguay's richest men he has long been an influential figure.
In a country rife with corruption, he has argued that his personal wealth makes him immune to the temptations of bribery.
But the opposition has pointed to his past, which includes a seven-month stint in jail on allegations of fraud, to argue he is unfit to lead the country.
Mr Cartes, 56, has denied any wrongdoing and said the fact that all charges against him were dropped was proof he had been wrongly accused.
Horacio Cartes is a member of Paraguay's small wealthy elite.
His father owned a franchise of the Cessna aircraft company and he studied aviation in the United States.
At the age of 19 he started investing in a currency exchange company, which later grew to become Amambay Bank.
Powerful connections
Over the years, he gained control of 25 companies, including Paraguay's biggest cigarette maker, Tabesa, and a popular soft drinks producer.
He also became president of Club Libertad, one of Paraguay's top football clubs.
By his own admission, he had never even been registered to vote until 2008, shortly before joining the Colorado Party.
Party colleagues described him as an "efficient" politician who advocated a fresh start for the Colorado Party, which had been an ally of military ruler Alfredo Stroessner, who ruled from 1954 to 1989.
It was his reputation for efficiency and his business acumen which convinced the Colorado Party to name him as their presidential candidate, despite his lack of experience in politics.
His media appearances however proved controversial, especially his remarks about same-sex marriage.
Speaking on local radio he said: "Let's stay normal, and those who want to be jumping from branch to branch, let them become monkeys."
He also said that even though he believed that "everyone should be allowed to do what they liked with their lives", legalising same-sex marriage made him think of "the end of the world".
Mr Cartes has also been accused of links with drug trafficking after a small aircraft laden with cocaine and marijuana landed at one of his ranches in 2000.
He said he had nothing to do with the plane, and when the incident was brought up during the election campaign he dismissed it as "an anecdote".
Voters said they had been swayed by Mr Cartes' campaign promise to raise private capital to fund infrastructure and modernise state-owned companies.
Many also voiced their hope that Mr Cartes, who is well connected with Paraguay's wealthy landowners and agricultural businesses, would create employment and draw international investment.
After his election win was declared, Mr Cartes called on all Paraguayans, regardless of their political affiliation, to "work together" to reduce Paraguay's rampant poverty.