Colombian authorities row over Farc jail terms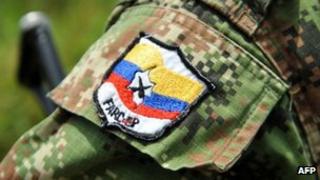 Colombia's attorney-general has said members of the rebel group Farc could escape jail terms should a peace deal be struck.
Eduardo Montealegre was reacting to earlier suggestions that Colombia could become a "rogue state" if an agreement allowed rebels to walk free.
Mr Montealegre said no Farc activists had yet been found guilty of crimes against humanity.
This week, thousands of people marched in support of the peace talks in Cuba.
The demonstrations, on Wednesday, came as Mr Montealegre announced that arrest orders against six Farc members had been suspended as part of the negotiations.
The activists are said to be part of Farc's negotiating team taking part in the talks aimed at ending five decades of violence.
'Inadmissible'
But Colombia's inspector-general, Alejandro Ordonez, spoke about "impunity" and said that the country would be in breach of international law if ever a peace deal allowed Farc members to walk free.
"It's inadmissible that those responsible for crimes against humanity, of war, genocides and displacements are not going to spend even a day in jail," he told reporters.
The attorney-general, however, said that kidnappings, the recruitment of under age "soldiers" and other crimes Farc members have already been found guilty of, were internationally recognised as human rights crimes but not as crimes against humanity.
He added that "transitional justice" was not the same as impunity.
Mr Montealegre maintained that there were other forms of punishment than jail and that a deal did not stand in the way of future investigations about crimes against humanity.
The negotiations launched last October in Norway by President Juan Manuel Santos are the first direct talks in a decade.
A month later, the meetings started in the Cuban capital, Havana.
But the issue is controversial with sectors of the armed forces and the police - who have fought Colombia's largest rebel group since the 1960s - and with supporters of former President Alvaro Uribe.
Hundreds of thousands of people have died and more than three million have been displaced by the conflict.