Chile poet Pablo Neruda's remains to be tested in US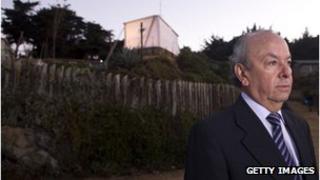 The family of the Nobel Prize-winning Chilean poet Pablo Neruda has agreed to send his remains to a laboratory in the United States for toxicology tests.
His body was exhumed on Monday by the authorities in Chile in an effort to determine whether his death was caused by poisoning.
Mr Neruda died 40 years ago, shortly after the coup that brought General Augusto Pinochet to power.
At the time his death was blamed on prostate cancer.
The family's decision came as his nephew Rodolfo Reyes, along with an international group of experts, identified pieces of clothing found amid the exhumed remains.
Mr Reyes, a lawyer, told local radio the remains would be thoroughly examined.
"They will take some samples to a laboratory. It's a technical examination and we want them to have all the time in the world to perform it, so there will be no outstanding doubts," he said.
The authorities said the tests would be done in North Carolina.
The poet was a close friend of the overthrown Chilean president, Salvador Allende. He died aged 69 just 12 days after Gen Pinochet's coup.
A close aide said the left-wing poet was given a lethal injection on Gen Pinochet's orders, but his family maintains the cause of death was cancer.
Neruda was buried next to his wife Matilde Urrutia in the garden of their home on the Pacific coast of Chile in Isla Negra, some 120km (75 miles) west of Santiago.
In 2011, Chile started investigating allegations by his former driver and personal assistant, Manuel Araya, that Neruda had been poisoned.
Mr Araya says Neruda called him from hospital, and told him he was feeling sick after having been given an injection in the stomach.
The allegations are backed by the Chilean Communist Party, which says that Neruda did not exhibit any of the symptoms associated with the advanced cancer he is reported to have died of.
Mr Reyes said the family wanted to know the truth "regardless of whether he died of natural causes or was murdered".
More than 3,000 people were "disappeared" and killed under the 17 years of Gen Pinochet's military rule (1973-90).