Helicopter crashes in Peru with 13 people on board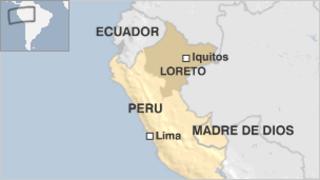 Thirteen people are missing, feared dead, after a helicopter crashed in the Loreto region of Peru.
French oil company Perenco, which had chartered the helicopter, said "so far, no survivors had been found" in the dense jungle area where the helicopter crashed.
It is not yet known what caused the helicopter to come down on its way to one of the company's oil fields.
Perenco said the nine passengers and four crew were Peruvian nationals.
The helicopter had taken off from the town of Iquitos and was headed to Block 67, an oil field in the Maranon Basin.
Helicopter crashes are not uncommon in Peru.
In January, a helicopter carrying seven people working for a Canadian-based oil exploration company crashed in northern Peru, killing the five US citizens and two Peruvians on board.
And last year 14 people, many of them South Koreans working for a hydroelectric power project, died in a crash in the eastern Madre de Dios region.