Six missing after Brazil accident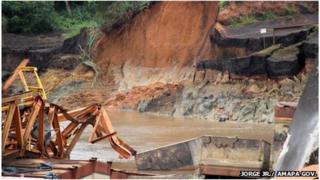 A mining company in Brazil says an inquiry has begun into the cause of the collapse and sinking of a floating port on the Amazon river, in Amapa state.
Rescue operations are under way to locate six workers who went missing.
An official blamed a big wave that allegedly washed over the banks of the Amazon, dragging with it cranes, lorries and people.
But witnesses said the surge was caused by the collapse of the floating quay, and not the other way around.
The authorities are investigating the accident in the port town of Santana, on the facilities of Anglo Ferrous, the Brazilian subsidiary mining giant Anglo American.
Divers and rescue workers had earlier scanned the muddy waters of the Amazon river in search of survivors.
The accident happened around midnight local time on Thursday (03:00 GMT on Friday), witnesses say.
"There was a wave that washed over the banks of Santana, even reaching the island of Santana. This wave also hit the company's port," Paulo Oliveira, a spokesman for Anglo Ferrous told the local channel TV Amapa.
Other witnesses, however, told reporters that the quick and powerful water surge was a consequence of the landslide and the sinking of the floating port facilities, which were used for loading ships with iron ore.
In a statement, Anglo American said the causes of the collapse were being investigated.
"An iron ore vessel was docked at the pier for loading at the time and was hit by flood waters. Flood waters also dragged vehicles and shipping equipment into the river," the company said.
Authorities avoided pointing fingers before the experts complete their tasks.
"Right now, it would be inappropriate to try and find a culprit, but after a detailed survey, we will get to understand the causes and be able to attribute responsabilities," the state governor of Amapa, Camilo Capiberibe, said.
The wave also sank boats moored nearby.