Mexico vigilantes detain police in Guerrero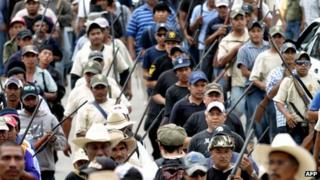 Hundreds of armed vigilantes have occupied a town in south-western Mexico after one of their leaders was killed.
Armed with shotguns, the self-styled "community police" marched into Tierra Colorada in Guerrero state.
They detained the local police chief, accusing him of involvement in the killing and working with drugs gangs.
Guerrero has seen a growing movement of self-defence groups in response to violent criminal gangs and the failure of police to guarantee security.
The vigilantes withdrew from Tierra Colorada after local authorities suspended the police chief and agreed to investigate him.
'We want justice'
The occupation - on the road linking Mexico City with the beach resort of Acapulco - came in response to the murder of vigilante leader Guadalupe Quinones Carbajal on Monday.
More than 1000 armed men moved into the town, searching houses and detaining around 12 police, including the local commander, whom they blame for the killing.
"This is not a protest, it is a confrontation between us and organised crime. We want justice," vigilante leader Bruno Placido Valerio told Mexico's Vanguardia newspaper.
Troops and federal police were brought to the town, and the vigilantes agreed to withdraw after negotiations with the local authorities.
Guerrero state has been a battleground for rival drugs cartels fighting for control of lucrative smuggling routs along Mexico's Pacific coast.
Vigilante groups say they are fighting against violence, kidnapping and extortion by criminal gangs, but they have in turn been accused of breaking the law and abusing the rights of those they detain.
About 70,000 people are estimated to have died in drug-related violence in Mexico over the past six years.
President Enrique Pena Nieto has made the fight against organised crime one of his main priorities and has announced the creation of a new federal police force to help drive down murder rates.