Venezuela diplomats expelled by US in tit-for-tat row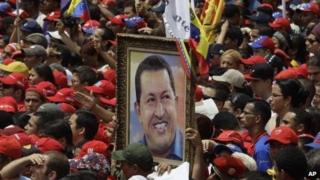 The United States has expelled two Venezuelan diplomats, following the expulsion of US attaches from Caracas.
The Venezuelans were asked to leave a day after President Hugo Chavez's funeral, US officials said on Monday.
The two countries have not had ambassadors in each other's capitals since 2010.
The latest expulsions came as Vice President Nicolas Maduro and challenger Henrique Capriles registered as candidates to succeed Mr Chavez.
The second secretary in Venezuela's Washington embassy, Orlando Jose Montanez, and New York consular official Victor Camacaro were declared personae non gratae on Saturday and left the US on Sunday, state department spokeswoman Victoria Nuland said.
"When you have an incident that you consider unjust ... you need to take reciprocal action and make your point clear," she added.
The US officials were sent back hours before Mr Chavez's death was announced on Tuesday.
At the time, Vice President Nicolas Maduro accused them of "attempting to destabilise the country."
'The people are Chavez'
Monday saw Mr Maduro, who is now acting president, officially register his candidature for the presidential elections on 14 April.
"I am not Chavez, but I am his son and all of us together, the people, are Chavez," he told crowds of supporters outside the National Election Council in a two-hour speech.
He will face the opposition leader Henrique Capriles, who has agreed to run for the umbrella opposition group Table for Democratic Unity (MUD).
Mr Maduro's supporters tried to prevent Mr Capriles reaching the council, forcing officials to extend a 14:00 (18:30 GMT) deadline for registration.
Earlier, the former Cuban leader Fidel Castro has made his first remarks about the death of his close friend Mr Chavez, calling him "Cuba's best friend in history".
In a newspaper article, Mr Castro said he had been "hard hit" by the death of the Venezuelan president last week.
Mr Chavez died on 5 March after a two-year battle against cancer.
Correspondents say the stage is now set for a bitter presidential campaign.
The opposition boycotted Mr Maduro's swearing-in on Friday, claiming that - under the constitution - the speaker of the National Assembly, Diosdado Cabello, should be the one to take over as acting president.
Mr Capriles called the move fraudulent.
Mr Chavez - who led Venezuela for 14 years - won last October's election against Mr Capriles, polling 54% of the vote to Mr Capriles's 44%.
Mr Chavez named his 50-year-old vice-president and foreign minister as his preferred successor following the recurrence of cancer.
Mr Maduro's friendship with Mr Chavez dates back to when the former president served time in prison for an attempted coup in 1992.
The former bus driver campaigned for Mr Chavez to be released - which happened two years later.
He has vowed to carry on where the late leader left off, but acknowledged that Mr Chavez would be difficult to follow.