Venezuela opposition leader Capriles to stand in election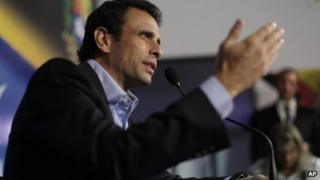 Venezuelan opposition leader Henrique Capriles has confirmed that he will stand in presidential elections on 14 April.
In a televised address, Mr Capriles accused the governing PSUV party of manipulating the recent death of Hugo Chavez.
Mr Chavez died on 5 March after a two-year battle against cancer.
Mr Capriles will stand against Acting President Nicolas Maduro, whom Mr Chavez named as his favoured successor.
The acting president went on state television minutes after the opposition leader's appearance, accusing him of being a "fascist".
Correspondents say the stage is now set for a bitter presidential campaign.
The opposition boycotted Mr Maduro's swearing-in on Friday, claiming that - under the constitution - the speaker of the National Assembly, Diosdado Cabello, should be the one to take over as acting president.
Mr Capriles - candidate for the umbrella opposition group Table for Democratic Unity (MUD) - called the move fraudulent.
On Sunday, he again accused the socialist PSUV of violating the constitution.
"My fight is not to be president, my fight is for Venezuela to move forward," he said.
"You [the PSUV] are the ones who became sick by power. You fear losing it."
He added: "I am going to fight. Nicolas, I am not going to give you a free pass. You will have to beat me with votes."
Mr Capriles, 40, is a lawyer by training and governor of the state of Miranda. He describes his policies as "centrist" and "humanist".
'Biggest mistake'
In his televised address on Sunday, Nicolas Maduro accused Henrique Capriles of inciting hatred, and said he was trying to provoke violence by insulting the late president's image.
"You have made the biggest mistake of your life," he said.
He announced that he would ask the national assembly to change the constitution on Tuesday to allow Mr Chavez's body to lie beside that of 19th Century South American revolutionary leader Simon Bolivar.
Both Mr Maduro and his opposition rival must register their candidacies by Monday.
Mr Chavez - who led Venezuela for 14 years - won last October's election against Mr Capriles, polling 54% of the vote to Mr Capriles's 44%.
Mr Chavez named his 50-year-old vice-president and foreign minister as his preferred successor following the recurrence of cancer.
Mr Maduro's friendship with Hugo Chavez dates back to when the former president served time in prison for an attempted coup in 1992.
The former bus driver campaigned for Mr Chavez to be released - which happened two years later.
He has vowed to carry on where the late leader left off but acknowledged that Mr Chavez would be difficult to follow.
He told a crowd on Saturday: "I am not Chavez - speaking in terms of the intelligence, charisma, historical force, leadership capacity and spiritual grandeur of our comandante [commander]."
Hugo Chavez's body is still lying in state at a military academy in the capital Caracas. Millions of Venezuelans have filed past to pay their respects.
Mr Maduro says the former leader's body will be embalmed "like Lenin and Mao Zedong".