Colombian ELN rebels free held German Breuer brothers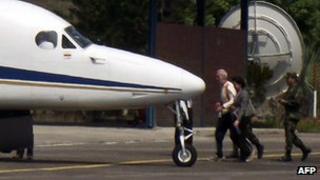 Two German nationals held hostage in Colombia since early November have been freed, the International Committee of the Red Cross says.
The two brothers Gunther and Uwe Breuer had been travelling through South America in a jeep when they were seized by the smaller of Colombia's two left-wing rebel groups, the ELN.
The guerrillas handed the brothers to a humanitarian commission.
The rebels said they had suspected the two, who are 69 and 72, of being spies.
A helicopter took the brothers from the jungle in the north-eastern Catatumbo area to a nearby airport where delegates from the German embassy were waiting for them.
They are said to be in good health.
The ELN (National Liberation Army) has stepped up its campaign of kidnapping over the past months.
Analysts say the group is trying to force the government to include it in peace talks it is holding with the larger Revolutionary Armed Forces of Colombia (Farc).
The ELN has refused to stop its attacks on civilian and military targets before any negotiations.
The government said it would not hold talks with the ELN unless if showed "acts of peace" rather than words.
The group was formed in 1965, inspired by the Cuban revolution and Marxist ideology.