Hugo Chavez's body to stay on display in Venezuela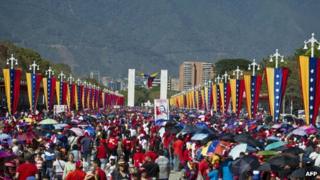 The body of the late Venezuelan President Hugo Chavez is to be embalmed and put on display after his funeral, Vice-President Nicolas Maduro says.
The decision reflects the huge crowds queuing to pay their respects in Caracas, where he is lying in state.
Mr Chavez's body will be moved to a military museum after the state funeral on Friday, Mr Maduro said.
Hugo Chavez, who led Venezuela for 14 years, died on Tuesday after a long battle with cancer.
More than two million mourners have already filed past his body at the military academy in Caracas, queuing for hours to see him lying in state.
Leaders from Latin America and beyond are gathering in Caracas for his funeral on Friday, and Mr Maduro said the ceremony would go ahead as planned.
His body would be embalmed "like Lenin and Mao Zedong", and put on display for at least another seven days, Mr Maduro added.
The body will be moved to the Caracas military museum, where Mr Chavez - then an army officer - was captured in 1992 after leading the failed coup attempt that first brought him onto Venezuela's political stage.
The building will be converted into a new "museum of the revolution", Mr Maduro said.
Mr Chavez's supporters want him eventually interred in Venezuela's national Pantheon alongside Simon Bolivar, the 19th Century independence leader the late president claimed as his political inspiration.
But Venezuela's constitution says people can only be admitted to the Pantheon 25 years after their death.
The Venezuelan government says more than 30 world leaders - mostly from Latin America and the Caribbean - will attend the funeral on Friday morning.
Among them will be President Dilma Rousseff of Brazil and Mahmoud Ahmadinejad of Iran.
Election looms
Hugo Chavez died on Tuesday after a two-year battle with cancer that saw him have four operations in Cuba.
He was re-elected for a fourth term as president last October after saying he had recovered from his illness.
Under Venezuela's constitution, an election must be held within 30 days and the government has said it intends to stick to that timetable.
Vice-President Nicolas Maduro - who is acting as president - will be the candidate for the governing socialist party (PSUV).
The opposition have yet to announce their candidate, but it is widely expected to be Henrique Capriles, 40, who lost to Mr Chavez in October.
A self-proclaimed revolutionary, during his 14 years in power Hugo Chavez used Venezuela's huge oil wealth to implement a wide range of socialist policies.
Broad popular support - above all from poor Venezuelans - helped him win successive elections.
But his opponents say he wrecked Venezuela's economy and governed as a virtual dictator, while crime and corruption flourished,
Internationally, he was an outspoken advocate of Latin American unity and a staunch critic of US influence in the region.