Colombia coffee growers on strike clash with the police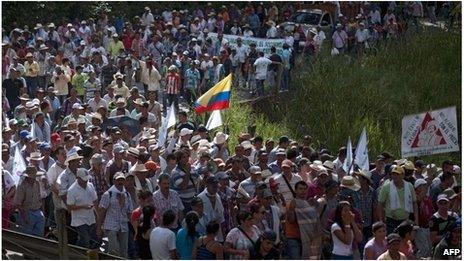 Thousands of coffee growers in Colombia have gone on strike demanding greater subsidies to protect them against falling international prices and a strong local currency.
President Juan Manuel Santos called for a halt to the protest, arguing it was "unnecessary and inconvenient".
There were a number of clashes with the police, and the opposition criticised the government's stance on the crisis.
Colombia is the world's fourth biggest coffee producer.
Coffee is also one of its biggest exports, with more than half a million families reliant on the crop for their livelihoods. But last year's crop was its lowest for decades.
Coffee growers blocked streets and motorways in a number of towns and some important cities, such as Medellin.
But security forces said they would not tolerate roadblocks, and some clashes broke out.
The opposition urged the government not to "criminalise" the protesters.
'Inconvenient and unnecessary'
The producers are demanding greater government support, after coffee prices plummeted on the international market last year.
But the president says his government already pays growers subsidies of 60,000 pesos (£21; $33) for every 125 kilograms of coffee and has said he will consider extending the benefit created last July.
"The strike is not only inconvenient and unnecessary but also unjust," he said in a speech broadcast on radio and TV.
Colombia is the world's fourth biggest producer, behind Brazil, Vietnam and Indonesia.