Mexican police charged with rape of Italian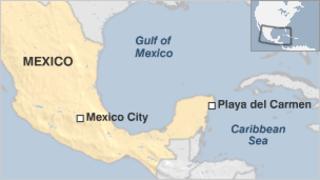 Two Mexican policemen have been charged with rape and abuse of authority after allegedly attacking an Italian woman in the resort of Playa del Carmen.
A third man, reportedly their commander, is still being sought.
It is alleged the woman was raped after being unable to pay a bribe for the officers to ignore an offence of urinating in public.
The incident comes just two weeks after six Spanish women were sexually assaulted by a gang in Acapulco.
Prosecutors in the state of Quintana Roo say the latest attack happened in an alleyway between two clubs in the Caribbean resort in the early hours of 12 February.
The woman said the officers raped her after she and her companion refused to hand over a bribe of 3,000 pesos (£150; $235).
She said they had gone into the alley after leaving a club and failing to find a public lavatory.
The BBC's Will Grant in Mexico says the tourism industry is increasingly concerned about the damaging effect such attacks have on business.
President Enrique Pena Nieto has vowed to tackle violent crime in Mexico since coming to power at the end of last year.
However, critics say a major overhaul of the local and federal police forces is needed to address endemic problems of corruption, violence and impunity.
Following the attack in Acapulco, six men were arrested. Our correspondent says the arrests came after intense international pressure on local authorities.