Farc releases Colombia soldier held for several weeks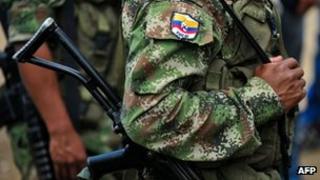 Colombia's main left-wing rebel group has released a soldier it had held hostage for nearly three weeks.
Josue Alvarez was the third person freed in two days by the Revolutionary Armed Forces of Colombia (Farc).
The 19-year-old was handed over to representatives of the International Committee of the Red Cross (ICRC) in a remote south-western area.
He was captured during a clash between rebel fighters and soldiers on 30 January in Narino department.
On Friday, the Farc released police officers Cristian Yate and Victor Alfonso Gonzalez in Valle del Cauca department. They had been hostages for several weeks.
Last year, the rebels pledged to stop kidnapping for ransom and released 10 policemen and soldiers who had been part of a group of about 60 hostages held for political reasons since the 1990s.
After the policemen were seized in January, however, the Farc insisted that capturing security forces personnel was still "part of its right" when they "surrender in battle".
Also on Friday, the ICRC said the smaller leftist rebel group, the National Liberation Army (ELN), had separately released five employees of a Canadian mining company kidnapped in January.
The ELN still holds a Canadian and two German nationals.
The Farc and the Colombian government have been holding peace talks in the Cuban capital, Havana, in an effort to end their almost five-decade-old conflict, but the ELN is not part of the process.
The Farc declared a unilateral two-month ceasefire at the start of the talks in November, but ended it on 20 January. The government says it will accept a bilateral truce only when a final peace deal has been signed.