Brazil troops to fight wave of attacks in the south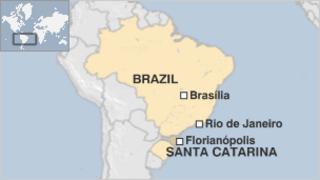 The Brazilian government has sent military reinforcements to tackle a wave of violence in the southern state of Santa Catarina.
More than 100 vehicles and offices have been attacked in the past month.
The government suspended classes on Friday, a day after bus drivers voted to limit journeys from 0700 to 1900, for fear of attack.
The reason for the attacks is unclear, but police say they could be a reaction to reported abuse in state prisons.
Investigators are trying to find out if the incidents are linked to organised crime gangs.
A video recently emerged showing security officials firing tear gas and rubber bullets at prisoners in a prison in the city of Joinville.
The state government says it is investigating the incident.
'Confidential'
Two military planes loaded with troops, vehicles and equipment landed in Santa Catarina on Friday.
The authorities say they will not give specific details of how they will be deployed, saying the information is "confidential".
The authorities have been providing some escort vehicles with armed men to safeguard bus journeys after dusk, but drivers say it's not enough.
On Friday, they agreed to keep the service running until 2300, after the government promised to increase the number of escorts.
Nearly 40 buses have been targeted and burnt in recent weeks.
The attacks have disrupted bus services in a number of cities in Santa Catarina.
More than 90 people have been arrested since the attacks began at the end of January.