Colombian soldiers die in clash with Farc rebels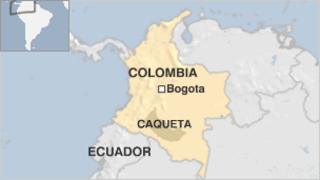 At least seven Colombian soldiers have been killed and another five injured in clashes with the country's largest rebel group, the Farc.
The fighting occurred in a rural area of the southern province of Caqueta.
It come as the rebels and the government are engaged in peace talks to try to end their almost five-decade-old conflict.
However, tensions have been on the rise again since the Farc ended a unilateral ceasefire last month.
The Colombian army said it had received information about a planned rebel attack on the village of San Antonio de Getucha.
It said soldiers launched an operation to prevent the planned attack, "advancing deep into the entrails of the Farc's southern commando".
In its statement, the army said there had been "an indeterminate" number of casualties on the rebel side.
The Colombian government has refused to agree to a truce, saying it will only end its operations against the Farc once a peace agreement has been reached.