Six arrested over rape of Spanish tourists in Acapulco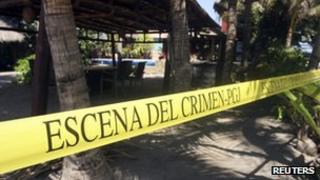 Six men have been arrested in Mexico in connection with the rape of six Spanish women near the holiday resort of Acapulco last week, officials say.
Attorney General Jesus Murillo Karam said the suspects had confessed.
The women were raped by masked gunmen who had broken into their bungalow.
The police said they were looking for one more suspect. Acapulco is one of Mexico's most famous beach resorts, but it has recently suffered from drug-related violence.
The brutality of the case shocked Mexicans and foreigners living in Mexico alike.
The gunmen burst into a rented beach house on Monday, tied up and held at gunpoint six Spanish men as they attacked the women for several hours.
A seventh woman escaped after telling the attackers she was a Mexican.
Most of the Spanish women are reported to be residents of Mexico who had travelled to Acapulco, on the Pacific coast, for a weekend break.
Correspondents say the rapes are a blow to Mexico's attempts to boost its reputation as a tourist destination.
Officials have promised to act swiftly to bring those responsible to justice.