World's 'ugliest woman' Julia Pastrana buried 153 years on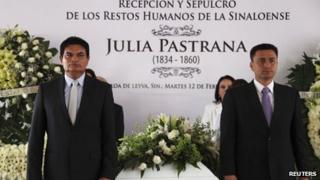 An indigenous woman exhibited in 19th-Century Europe as the "world's ugliest woman" has been buried in her native Mexico some 150 years after her death.
Julia Pastrana, who suffered from a genetic condition that covered her face in hair, performed in circuses as a freak of nature.
After she died in 1860, her American husband toured with her embalmed body, which ended up in Norway.
Her remains were returned this week for a proper burial, after a long campaign.
People flocked to the town of Sinaloa de Leyva on Tuesday where Julia Pastrana was laid to rest in a white coffin adorned with white roses.
"Imagine the aggression and cruelty of humankind she had to face, and how she overcame it. It's a very dignified story," said Sinaloa Governor Mario Lopez.
"A human being should not be the object of anyone," Father Jaime Reyes Retana told mourners.
'Place in history'
Julia Pastrana, who was born in 1834, suffered from hypertrichosis which covered her face in hair and had a jutting jaw.
Because of her appearance she was called a "bear woman" or "ape woman".
In the 1850s, she met and married US impresario Theodore Lent who took her round freak shows, where she would sing and dance.
She died in 1860 in Moscow after giving birth to a son who had the same condition and lived for only a few days.
But Julia Pastrana's story did not end there as Lent continued to tour with their embalmed bodies.
The corpses finally ended up in Norway, where, in a further twist in 1976, they were stolen, dumped and recovered by the police.
The remains ended up in storage at the University of Oslo.
Mexican artist Laura Anderson Barbata began a campaign for Julia Pastrana's body to be returned home in 2005, with Mexican officials subsequently lending their weight to her request.
"I felt she deserved the right to regain her dignity and her place in history, and in the world's memory," Ms Barbata told the New York Times.