Chile's Mapuche Indians clash with police in Collipulli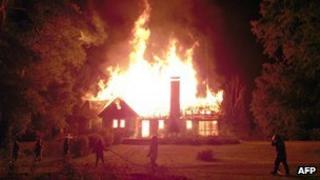 Police in southern Chile have arrested 20 Mapuche Indians after they clashed with officers in Collipulli.
The Mapuche were demanding the release of Fernando Millacheo.
Mr Millacheo has been on hunger strike for seven weeks while in prison awaiting trial. He has been charged with robbery, arson and attempted murder, which he denies.
There has been a string of arson attacks in the area, which the Mapuche Indians claim as their ancestral land.
Police said the members of the Mapuche indigenous group hurled rocks at them outside a court house in Collipulli.
Mr Millacheo was due to attend a hearing at the court house on Tuesday.
String of attacks
Tensions between the Mapuche and non-indigenous residents of the southern Araucania region have been heightening since an elderly couple died in an arson attack last month.
Bernard Luchsinger and his wife burned to death when hooded arsonists torched their home.
Mr Luchsinger and his family had been involved in a land dispute with the Mapuches and officials blamed the attack on radical Mapuche groups, but none of them has said it was behind the attack.
Many of the about one million Mapuche still live in Araucania, many of them in poverty.
Violent factions have in the past burned forestry farms and private homes to demand the return of ancestral territories.