Mexico Pemex blast blamed on build-up of gas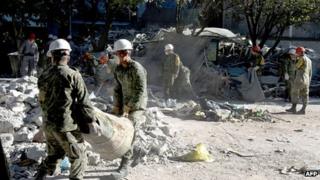 A deadly blast at the headquarters of the Mexican state oil company Pemex was caused by a build-up of gas, the attorney general has said.
Jesus Murillo Karam said no traces of explosives were found at the site in Mexico City.
He said experts believed an electrical fault had caused a spark that detonated the leaking gas last Thursday.
The death toll from the blast has risen to 37. Several lower floors collapsed in the explosion.
More than 100 people are being treated in hospital, many of them injured by falling masonry.
Mr Murillo Karam said the source of the gas was still being investigated, although it is believed methane gas may have leaked from ducts beneath the building or from the sewer system.
'No crater'
"There are several possible sources," he added.
"This explosion... generated an effect on the structures of the floors of the building, first pushing them up and then causing them to fall, and that was the primary cause of deaths in the building," he said.
The attorney general said there was little evidence of the type of burn marks typical in a bomb blast. There was also no sign of a crater typically left by an explosive device, he added.
The authorities have taken several days to confirm the blast was an accident rather than a deliberate attack by one of Mexico's armed groups.
BBC Mexico correspondent Will Grant says there are still many questions left to answer, including why the gas build up was not not detected before it was too late.
Rescue and recovery teams have been using heavy machinery to move rubble from the site of the blast.
Pemex said it would resume operations at its headquarters on Tuesday, moving employees who worked in the affected building to other offices.
The state-owned company has experienced a number of fatal accidents in recent years.
Last September, 30 people died in an explosion at a Pemex gas plant in northern Mexico, thought to have been caused by a build-up of gas.