Paraguay candidate Lino Oviedo dies in helicopter crash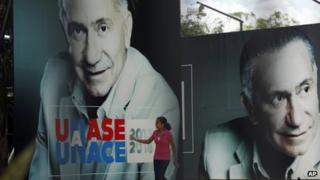 Paraguayan presidential candidate Lino Oviedo has died in a helicopter crash.
Mr Oviedo, 69, was running for Paraguay's third largest party in April's presidential election.
A retired general, he had been involved in politics for decades, helping lead the coup which overthrew the military ruler Alfredo Stroessner in 1989.
He was returning from a rally when his helicopter crashed north of the capital, Asuncion. An inquiry into the cause of the crash is under way.
The pilot and Mr Oviedo's bodyguard also died. Police found their bodies in the province of Presidente Hayes.
Defence Minister Maria Liz Garcia said residents had heard a single explosion and the aircraft disintegrated. A storm had been reported along the flight path.
President Federico Franco has declared three days of mourning.
Rocky career
Lino Oviedo was running for the National Union of Ethical Citizens party (Unace) in the presidential elections due on 21 April.
As an army colonel he played a prominent part in the uprising which overthrew Gen Alfredo Stroessner in 1989, delivering the news that he was under arrest.
In the aftermath of the coup, he rose quickly through military ranks, becoming brigadier-general and, by 1993, army chief.
His continued political campaigning, however, was criticised by then-president Juan Carlos Wasmosy, who asked him to step down as army chief in 1996 - an order he ignored.
He eventually stepped down and ran as a candidate for the Colorado Party in the 1998 presidential election.
However before the election he was sentenced to 10 years in prison for plotting to overthrow President Wasmosy. His running mate, Raul Cubas, was elected instead and ordered Mr Oviedo's release.
But the killing of Vice-President Luis Maria Argana in 1999 and accusations by his relatives that Mr Oviedo had been behind the killing sent him into exile.
In 2004 he returned to Paraguay, where he was convicted over his 1996 insubordination. The conviction was overturned in 2007, allowing him to run in the 2008 election, which he lost.
Seen as a populist, he often switched between Spanish and Guarani during his speeches.