New Mexico City law punishes animal cruelty with jail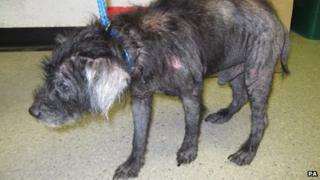 People mistreating animals in Mexico City face a fine and up to four years in jail, new legislation states.
The revised version of the capital's criminal code protects wild and domestic animals against maltreatment.
Thousands of stray dogs live in the Mexican capital's streets and many are reportedly subjected to cruelty.
The BBC's Will Grant, in Mexico City, says the law is also likely to further strengthen the hand of anti-bull fighting activists.
For months, the anti-bullfighting lobby has been trying to have the pastime outlawed in the city, he says. Under the new administration of Mayor Miguel Angel Mancera, they are confident that their proposal will soon become law.
Recently, four people were mauled to death in a park, with stray dogs blamed for the incident.
Experts said the bite marks suggested that at least 10 dogs were involved in the attack.
At least 25 dogs living in Cerro de la Estrella, a hilly woodland in eastern Mexico City, were rounded up by investigators but later cleared of suspicion.
The number of stray dogs in the Mexican capital is estimated at about 120,000. Critics say many are routinely maltreated.
The new law specifies that abandoned pets, such as street dogs, cannot be considered pests.
The revised version of the Mexican capital's criminal code was passed in December but came into force on Thursday.
It states that anyone caught intentionally hurting animals in a way that leads to their death can be jailed up to four years and pay fines of as much as around $3,000 (£1,900).
If the maltreatment does not kill the animal, the maximum sentence is two years and a top fine of around $750.
The previous version of the criminal code only specified fines as penalties for animal maltreatment.