Musicians caught up in Mexico's drug wars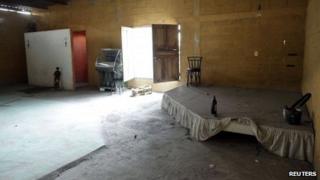 The violent deaths of all but one member of a musical band in northern Mexico have thrown a spotlight on the murky world of musicians who play for the country's drug gangs, says the BBC's Will Grant in Mexico City.
When the families and the authorities arrived at the scene of the party in the northern Mexican town of Hidalgo, they found it deserted.
There were bottles of beer and whisky strewn around on the ground, and the cars belonging to members of the musical band, Kombo Kolombia, had been left open and abandoned.
But there was no sign of the missing musicians.
The men's bodies began to turn up a few days later. Some 30km (20 miles) away, 17 bodies were discovered down a well with gunshot wounds to the head. One member of the band had managed to escape their captors and lead the authorities to where the corpses had been dumped.
Kombo Kolombia, who specialised in Colombian vallenato music, are the latest in a long list of musical acts to be murdered by Mexico's violent drug gangs.
The men's families were quick to rebuff any suggestion that the musicians were involved in the drugs trade.
"My son was a healthy boy," said Maria Sagrario Saenz, mother of the group's percussionist, Ricardo Alfonso, after identifying his body. "He was a veterinarian. He gave percussion lessons to kids. He wasn't involved in anything he shouldn't be, should they try to link him to such things."
Money
For the journalist Javier Valdez, who has written extensively on the drugs war, it is generally unfair to "condemn a musician [as a criminal] for simply having played at a 'narco' party".
One musician who agrees is Antonio (not his real name). Antonio has played at a number of "narco-parties" and spoke to the BBC's Spanish-language website, BBC Mundo, via email. For him, the reason for performing at such events is simple: money.
"This is a business, and it's about making money through what we do [music]", he told BBC Mundo. "They pay well, in cash, and without any problems."
The parties themselves conjure up images of lavish, debauched affairs such as depicted in Hollywood films about drug lords, such as Scarface or Blow. The reality isn't too different, says Antonio, though he is understandably wary of giving away too many details of what he has seen while onstage.
"There is a lot of security and no expense is spared," he writes. "There's a lot of booze, food and other things. There is money to throw around. In truth, the parties are quite calm because there is so much vigilance and security on hand. There's always someone who has one too many drinks, but it's almost always calmed down quickly, so that there aren't arguments or fights."
Chronicle of life
Some musicians have been murdered in Mexico in recent years for performing "narco-corridos" - tribute songs honouring certain drug lords. One particular singer, Valentín Elizalde, known as El Gallo de Oro, is believed to have been killed after he performed a narco-corrido about the world's most powerful drug baron, Joaquin "El Chapo" Guzman, on territory belonging to his bitter rivals, Los Zetas.
Jose Manuel Valenzuela is an expert on music and violence in Mexico at the College of the Northern Border, in Tijuana. He says that "corridos" have traditionally been a form of chronicle about social life in Mexico.
"Once drug trafficking took on its inescapable presence in national life," he says, "evidently the 'corridos' began to reflect a large part of the stories which emerge from the painful framework of the drug world."
Problems arise, he believes, when the songs "start to speak of complicity by the police, the military, clerics and politicians".
It still isn't clear why Kombo Kolombia - who didn't perform narco-corridos - were killed.
Officials will only confirm that they had been paid to perform at an event when members of a criminal organisation appeared and abducted the musicians at gunpoint.
The state security office in Nuevo Leon say they are investigating several lines of inquiry based on information from the surviving member of the band. But so far have only confirmed that the group was "directly targeted" rather than caught up in a random attack.
Antonio is well aware of the potential risks he runs by performing at such parties. But he believes that musicians who have fallen foul of the drug cartels did so because they "did something".
"They probably got into trouble, fell for a woman they shouldn't have or somehow angered someone high-ranking. Who knows? But as long as you don't cause problems with anyone, it's fine."
Is is ever possible to refuse to perform for a drug lord, BBC Mundo asked Antonio.
"We've never heard of anyone who's refused to play," he replied.
"Everyone plays to make money. On top of which, no-one tells you that so-and-so or such-and-such a person is going to be at the event. They just contract you and that's it. But you know right from the start when you're at a party with a big fish there."