Guatemala ex-ruler Rios Montt to face genocide trial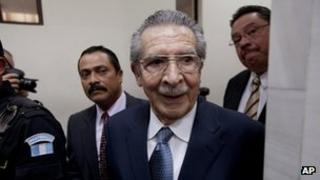 A judge in Guatemala has ordered that former military leader Efrain Rios Montt stand trial for genocide.
Gen Rios Montt will face charges of crimes against humanity in connection with the killing of 1,771 indigenous Mayans during his rule in 1982-1983.
Prosecutors said he wanted to wipe out the indigenous group, which he suspected of supporting rebel fighters.
Gen Rios Montt, 86, is the first ex-president to be charged with genocide by a Latin American court.
The ruling clears the way for a three-judge to try the former president and another former military man, Jose Mauricio Rodriguez.
'Scorched earth'
Gen Rios Montt had enjoyed immunity from prosecution for 12 years while he was serving as a congressman.
The immunity was lifted on 14 January 2012, when his term ran out. He has been under house arrest since.
Judge Miguel Angel Galvez said there was enough evidence linking the general to the killing of members of the Ixil Maya group to warrant the trial.
Gen Rios Montt will also face charges over the forced displacement of 29,000 indigenous Guatemalans as part of what human rights groups have called his "scorched earth" policy.
BBC regional correspondent Will Grant says the ruling is a significant victory for human rights advocates who have been pressing for his trial since the end of the civil conflict in 1996.
An estimated 200,000 people were killed or went missing during the 36-year conflict.
Gen Rios Montt's 17 months in power are believed to have been one of the most violent periods of the war.