Mexico arrests in drug gang dismembering case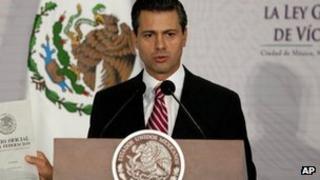 The authorities in Mexico have arrested 11 gang members suspected of killing and dismembering up to 16 people in the last 10 days.
Police say they belong to the La Familia Michoacana drug cartel and that most of the victims were reportedly look-outs for rival gangs.
The suspects were detained in the city of Toluca, around 60km west of Mexico City, carrying a number of guns.
The dismembered bodies of the victims were found in plastic bags in Toluca.
On Wednesday, authorities discovered another six bodies, further to the 10 that had been found in the capital of the state of Mexico since 14 January.
Among the suspected killers was a 15-year-old girl, Mexico state's Public Safety Secretary, Salvador Neme, told reporters.
He added that the group was headed by an Army deserter who joined "La Familia" a few years ago.
Mexican President Enrique Pena Nieto has said that reducing violence in Mexico is one of his government's top priorities.
He has recently enacted a law to trace and help thousands of victims caught up in drug violence and other crimes.
The bill sets up a compensation fund and establishes a national registry to record what happened to victims.
Some of the bodies showed signs of torture, and police found notes reportedly left by the drug gang.
An estimated 70,000 people have died in drug-related violence in the past six years.