Hugo Chavez 'in physiotherapy', says Bolivia's Morales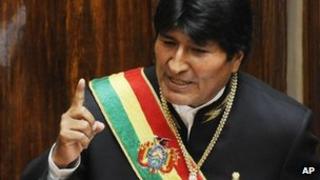 Venezuelan President Hugo Chavez, "is receiving physiotherapy to return to his country", says his Bolivian counterpart Evo Morales.
Mr Morales said he had spoken to Mr Chavez on the phone, as the Venezuelan leader continued his treatment in Cuba.
President Chavez has not been seen or heard since an operation six weeks ago to treat an undisclosed cancer.
Lately, there has been a string of positive comments about the health of the Venezuelan leader.
The latest remark came after President Evo Morales addressed the Bolivian congress in La Paz.
"Our brother, commander Hugo Chavez, is now in physical therapy to return to his country," said Mr Morales.
Earlier, Venezuelan Foreign Minister Elias Jaua said Mr Chavez was in good spirits.
"Comrades, I'm coming out of the meeting with our commander president, Hugo Chavez," Mr Jaua wrote on Twitter after meeting Mr Chavez in Cuba on Monday.
"We shared jokes and laughed."
"Viva Chavez!" read the tweet.
The foreign minister also said that Mr Chavez had given instructions over Venezuela's participation in a forthcoming Latin American Summit.
One of Mr Chavez' five brothers, Argenis Chavez, also appeared to be upbeat about the president's recovery on an interview with the Associated Press news agency.
He refused however to give any details and, in a later statement, said any information on Mr Chavez' health would come through official channels.
On Sunday, Vice President Nicolas Maduro said the president was "gaining strength" following complications after cancer surgery on 11 December.
Mr Maduro said the leader was entering a new phase of treatment, after having suffered respiratory complications following the operation.
He also said he was optimistic about the president returning to Venezuela soon.