Venezuelan VP: Hugo Chavez is 'gaining strength'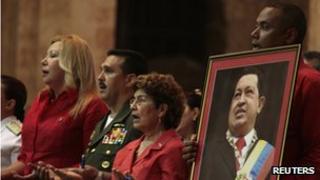 Venezuelan Vice-President Nicolas Maduro says President Hugo Chavez is "gaining strength" following complications after cancer surgery.
Mr Maduro said Mr Chavez had finished "the post-operative period" and was entering a new phase of treatment.
President Chavez had an operation for an undisclosed form of cancer in Cuba on 11 December and has not been heard or seen in public since.
Mr Chavez should have been sworn in for a new term on 10 January.
Mr Maduro said he was optimistic Mr Chavez would soon return to Venezuela.
Speaking in an interview with private Venezuelan television network Televen, Mr Maduro said that President Chavez's "vital signs and organ function are stabilising".
Mr Maduro said he had spoken to the president on a number of occasions.
He said when he visited him on 14 January, President Chavez had been "very interested in oil prices".
'New phase'
Venezuela is a major oil producer and high oil prices have allowed President Chavez to fund many of the healthcare and education programmes which have made him popular among Venezuela's poor.
According to Mr Maduro, President Chavez was concentrating on his treatment, following the medical advice he was given "with discipline".
Before leaving Venezuela for treatment in Cuba, President Chavez, who has been in office since 1999, named Mr Maduro as his choice to replace him should anything happen.
Earlier this week, Mr Maduro stepped in for President Chavez and delivered the annual state of the union address in his stead.
The opposition has demanded clarity about who is running the country after the President missed his own inauguration for a fourth presidential term on 10 January.
The Venezuelan Supreme Court ruled that Mr Chavez could be sworn in at a later date.
But the opposition argues that in the continuing absence of President Chavez, the speaker of the National Assembly should take over and elections called within 30 days.
On Friday, opposition groups cancelled a protest march they had planned for 23 January. They said they feared supporters of Mr Chavez would "incite violence" and provoke clashes.