Mexico police arrested in 'organised crime raid'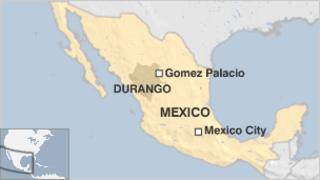 More than 150 police officers have been arrested in northern Mexico on suspicion of having links with organised crime.
The director of public security in Gomez Palacio and his counterpart in the city of Lerdo were also detained.
Soldiers cordoned off the police stations of the two cities in simultaneous raids.
Mexican President Enrique Pena Nieto has made the fight against corruption one of his government's priorities.
Buses took those detained to the state capital for interrogation.
Durango state Prosecutor Sonia Yadira de la Garza Fragoso said the raid followed a long investigation.
She said the officers detained had had their duty weapons taken off them, so that they could be sent for testing to determine if they had been used in crimes committed in the state.
The military has been left in charge of security in the two cities, while the police officers continue to be investigated.
Corruption within Mexico's police force, especially the municipal police, is rife, with officers often offered money or threatened by the country's powerful drug gangs to work for them and tip them off about upcoming raids.
In an effort to tackle corruption within the police, President Pena Nieto last month announced the creation of a new national force.
He said it would be modelled on European-style gendarmeries, with the focus on basic law enforcement duties.