Colombia's ELN rebels kidnap five mine workers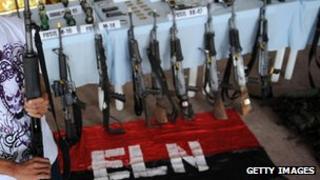 ELN rebels in northern Colombia have kidnapped five workers from a mining company, the army has said.
Three of the men are thought to be foreigners - a Canadian and two Peruvian nationals.
"Security forces have been deployed and we have them in our sights," President Juan Manuel Santos said.
The ELN (National Liberation Army) is Colombia's second largest rebel group after the Farc, which has declared a ceasefire until 20 January.
The hostages were taken in the south of the northern Bolivar province.
More than 20 rebels reportedly took part in the raid at dawn on Friday.
Government officials said a land and air operation to rescue the workers was under way.
The latest ELN attack comes as Colombia's largest rebel group, the Farc (Revolutionary Armed Forces of Colombia), holds peace talks with the government, aimed at ending five decades of an armed conflict that has killed hundreds of thousands of people.
The Farc's chief negotiator, Ivan Marquez, has ruled out an extension of the 20 January ceasefire.
The negotiations were launched in Norway on 18 October, before moving to the Cuban capital a month later.
The Colombian government says the final aim of the negotiations is to get the rebels to abandon their armed struggle - which began with the founding of the Farc in 1964 - and join the legal political process.